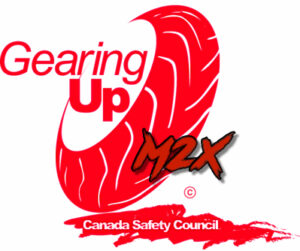 Training Motorcycles are NOT Provided
You will learn defensive driving techniques and vehicle control, refresh your low speed skills, practice emergency measures, perform in traffic situations and, practice riding in staggered formation. Thanks to wireless communication, you will be escorted through intersections, left and right turns, commercial and residential traffic and on the expressway. The course consists of three segments: classroom portion, a parking lot portion and a road or street portion. Upon completion students will be given the M2 Exit Road Test by our Ministry of Transportation-certified instructors.
Did you know…
Our M2 Exit Course is recognized by the Ministry of Transportation in Ontario to issue permanent "M" licences. This means that you do not have to go to the DriveTest Centre for testing. Once you pass the M2 Exit Course, no further testing is required. (you must go to the DriveTest Centre to update your licence within 6 months). NOTE: You will be required to sign a waiver of claim (see the waiver of claim form for the College where you intend to take the course) prior to taking our course. If this is unacceptable to you, and you do not wish to sign the waiver, please do not register.
Course Requirements:
You must have your own road legal motorcycle capable of reaching highway speeds to take this course.
You must provide and wear all your own protective gear (Full face helmet, Eye protection, Sturdy Jacket, Gloves, Pants and Boots).
Have a valid M2 licence for a minimum of 22 months (or 18 months if successfully completed at a recognized motorcycle training program).
Need to have ownership, valid plate sticker and current insurance certificate.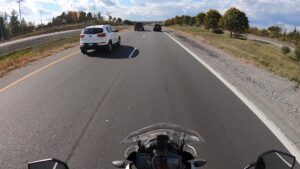 You Will:
Learn defensive driving techniques
Refresh your low speed skills
Learn vehicle control
Practice Emergency Measures
Perform in Traffic Situations
Ride using Advanced Riding Procedures